What is Periodontitis?
Periodontitis is inflammation around the tooth which can lead to mobility of the tooth and eventually tooth loss
What problems will you get when having periodontitis?
Periodontitis shows the following signs:
Bleeding gums
Bad breath
Mobility of teeth
Change in the position of the teeth from their original position
Gum recession
Food lodgment
Pain in the gums in some cases
What is gingivitis?
Inflammation of the gums is known as Gingivitis. There is bleeding from the gums which you may notice while brushing or flossing your teeth. Professional cleaning of the teeth followed by proper brushing and flossing, and a follow up by the dentist to ensure that you are not getting inflammation in the gums again can help you control Gingivitis.
What are the causes of gum disease?
Improper oral hygiene allows the bacteria in plaque and calculus to remain on the teeth. This causes gum disease. Other factors mentioned below can also contribute to gum disease:
Smoking or chewing tobacco
Misaligned teeth and improper bite
Hormonal changes in puberty, pregnancy, and menopause
Cancer and its treatment
Alcohol
Stress- It impairs the body's immune response to bacterial invasion.
Mouth breathing
Poor nutrition, involving high sugar intake and a diet deficient in fibers and nutrition. It is also important to keep your mouth well hydrated
Diabetes mellitus
Certain medications such as medicines used to control seizures
Poor saliva production which can be due to certain medicines or due to certain systemic diseases
How does Gingivitis progress to Periodontitis?
If you do not take control of the Gingivitis in its early stages by visiting your dentist then it progresses to Periodontitis. There are various stages of Chronic Periodontitis:
Spaces develop between the teeth and the gums known as pockets. These cannot be cleaned with brushing and you may require an additional procedure known as root planning in addition to scaling.
During root planning certain instruments known as 'curettes' are introduced between the tooth and the gum to clean that area. It helps in removal of plaque and calculus and smoothens the altered root of the tooth.
The smoothening of the altered root of the tooth in return leads to attachment of the gums to the teeth and the pocket is hence eradicated.
It is now possible to clean your teeth normally without the fear of the pocket deepening further and further bone loss around the teeth. However, it is important you see your Periodontist on your recall visits so that if there is starting of a pocket again anywhere in the mouth, it can be treated immediately and rectified.
During this stage, the pockets are deeper than those present in mild periodontitis.
To treat bigger pockets, surgical intervention might be required.
In addition, in case there is recession it can be treated with gum grafts from the adjacent mucosa or with mucosa from the palate.
A bite correction could also be required at this stage in order to avoid faster progress of periodontitis.
During advanced periodontitis, there is severe bone loss and surgery involving bone addition or bone resection would have to be carried out.
At times the bone loss may be very severe around one root of a multi-rooted tooth. In such a case, the root which has a lot of bone loss that cannot be saved might have to be sacrificed and the healthy portion of the root might have to be saved. This process is known as hemisection/root resection.
What are the various types of bone graft materials available that can be put in my gums during my surgery?
Bone grafts involving either natural bone, harvested from another part of the body (autograft) or artificial bone (allograft or Xenograft) could be used. This would additionally require membranes made from the patient's blood (we normally do it through PRF in our clinic) or acquired artificially from other sources. This procedure is known as Guided bone regeneration (GBR)
I have got to know that my front teeth require a surgery due to high frenum attachment. What does this mean?
At times the muscle that attaches the gums to the gingiva could be causing a pull on the teeth leading to accumulation of plaque and food debris in the incisor area. This has to be surgically resected in order to avoid accumulation of plaque and lead to better cleaning in that area.  This procedure is known as Frenectomy.
My gums look puffy. Can they be made to look natural and healthy?
Gum surgeries do involve cosmetic surgical procedures as well. These involve:
Gingivectomy : At times, the gums may be enlarged without having actual bone loss. In such a case the gums have to be cut off and shaped in order to return to gums to a healthy state.
Gingivoplasty: The gums can be shaped to give a cosmetic look to the gums in case a patient is going through a smile design procedure.
My gums look black. Can they be made to look pink again?
In case of gums that are dark or pigmented, they can be corrected surgically to look pink. This procedure requires gentle removal of a layer of the gums from the top. This is known as depigmentation.
How long will the effects of depigmentation last?
The pigmentation in the gums occurs due to the melanin pigmentation, the cells for which are present in the gums (other than the skin). Once the depigmentation procedure is done it lasts a couple of years but varies from person to person.
How can I save my teeth from getting infected by periodontitis?
Regular brushing and flossing twice a day
Avoid using mouthwashes without a prescription
Please report to your dentist in case of sensitivity instead of taking over the counter desensitizing toothpastes
Regular checkups and scaling every 6 months, especially after the age of 40.
Proper home care in case you have been advised so by your Periodontist following periodontal treatment
A number of my teeth are loose. Is there a way to hold them together?
A number of teeth could be loose due to periodontal disease. After treating these teeth for periodontitis, they can be joined together with the help of a splint to hold them together.
Generally, a fibre ribbon splint is used to bind the teeth together by making a slight serration on the teeth that need to be bonded together. This helps in the distribution of masticatory load equally on the teeth that are bonded together.
Aggressive periodontitis is a form of periodontitis that affects individuals at a young age and has a genetic predilection.
This disorder generally affects females and the bone loss progresses very rapidly.
The teeth to be affected first are the molars and incisors.
If left untreated this can lead to tooth loss and hence bone loss at a young age. It can be controlled with proper treatment and medicines.
Watch Video to know more about Periodontal Disease
Case of Aggressive Periodontitis treated successfully
Case of Aggressive Periodontitis
The gums are inflamed and the lower teeth are mobile. Scaling and root planing done as initial treatment. Extraction of the right lower first molar tooth and one Root canal was done in the right lower side and then Root Canal was also done of right upper side. Flap surgery was done for the right upper and lower section of the mouth.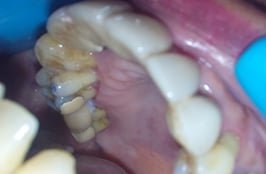 Teeth preparation was done in all the 3 root canal treated teeth. The crowns were fitted in place.
What our patients have said....