Studies say that almost half the population have at least one tooth missing. So you are not alone!
Having one or more missing tooth can shake and dent your confidence. Not only this it will also affect the way you speak, smile or eat. Various treatment options are available to address this problem. These can be dentures, bridges or Dental Implants.
Dental implants have been used to replace missing teeth since the mid-1960s, but have changed the face of dentistry in recent years. Implants are manufactured from titanium, a metal that is known to be compatible with body tissues and able to bond with adjacent bone during healing.
Dental implants are as natural as it gets to the real thing. Most importantly they look natural and can be used to replace a single tooth, multiple teeth or complete set of teeth.
What is Dental Implant and what is it made of?
A dental implant is essentially a titanium screw or cylinder, between 8 and 16 mm long, which is inserted into a prepared bony socket in the jaw and acts as a replacement root for the missing tooth.
A special attachment called the abutment, which is fitted to the top of the implant, forms the external connection for the new replacement tooth (crown) or teeth (bridge or denture).

During healing, the titanium surface of the implant fuses with the surrounding bone, in a process known as osseointegration, which can take about 3-6 months. After this time, the implant is stable enough to support one or more false teeth.
What are various types of implants which can be fitted or suitable for my needs?

The gold-standard option for replacing single missing teeth is a Single Tooth Implant.
For 2 or more adjacent missing teeth. One or more implants can be fitted to support enough crowns or bridges to effectively fill the gap, so called Multiple Teeth Implant.
All on 4 Teeth Implants involves placing 4 implants in each jaw and loading a complete set of teeth.
Where can implants be used?
They can be used to
Replace a missing tooth
Replace multiple teeth
To give added retention to dentures or give fixed teeth
Are dental implants a better option than crowns or bridges?
Dental implants have a number of important advantages over conventional crowns, bridges and dentures:
Implants look and feel like natural teeth
Healthy adjacent teeth do not have to be filed down to act as supports for the missing tooth or teeth
Implants help in getting a good profile for the teeth as they preserve the bone of the jaws
Can a decayed tooth be removed at the time of placing dental implants?
Decayed teeth can be removed at the time of placing implants provided the infection in the tooth has not caused resorption in the bone where the implant needs to be placed. In case the tooth is highly infected, it will have to be removed first and the patient will have to wait for about 6 weeks after the removal of the tooth.
What if I do not replace my missing teeth?
Missing teeth can adversely affect your dental health. The first is that your existing teeth will move and adjust to compensate for the teeth that are no longer there hence creating spaces between your teeth. This has an effect on your natural bite and can make brushing more difficult leaving you more vulnerable to oral infection. 
Over time, the bone that surrounded the tooth root deteriorates making your jawbone less strong and dense. Dental implants give a wonderful opportunity to address these issues while restoring your smile
 Is everyone a suitable candidate for implants?
Dental implants are suitable for almost anyone who has lost one or more teeth and would like to restore their appearance or chewing ability provided they are:
More than 18 years of age.

Having healthy bone and gums, that is, not having periodontal disease.

In good general health.

Not smokers or tobacco chewers.
What does implant treatment involve?
Examination:  A preoperative examination and tissue assessment is done. Based on the amount of available bone and tissue, an assessment is made whether an additional surgery for augmentation of bone or tissue is required.
An impression of the teeth is made in the first appointment and blood tests and a scan are advised in order to proceed with the treatment planning.
Implant surgery: Implant surgery can be carried out using either a one-stage or two-stage procedure, depending on your particular clinical circumstances. In either case, the surgery involves making a small incision in the gum to expose the bone and using a special drill to shape the implant site.
In case any additional surgery is required for bone or tissue augmentation, it may be possible to carry out the procedure along with the Stage 1 surgery. At times, an additional surgical appointment might be necessary for the bone/tissue augmentation prior to the implant surgery and the implant surgery might have to be delayed by 3 to 6 months.

Prosthetic treatment: During a two stage surgery, a second incision is needed to uncover the implant via a small incision and a healing screw is left in place for two weeks. In case of single stage surgery, a portion of the implant is left jutting out of the implant and the need for a second incision 3 to 6 months later is avoided. An impression is taken 2 weeks later once the gums have adapted well to the healing screw. The impression is sent to the lab and an abutment ( an attachment on top of the implant) carrying the crown is fitted on to the implant
Can implants replace multiple missing teeth as well?
Implants can replace multiple missing teeth in a row. However, each individual tooth will not require one implant. Instead a few implants can be given and the support provided by these implants can be used to fabricate a bridge in the area of missing teeth.
How are mucositis and peri-implantitis detected and treated?
Bleeding could be a sign of mucositis or peri-implantitis. Other changes that you might notice are local swellings, bad breath or a bad taste, and loosening of the implant, bridge or dentures.
Regular recall appointments with your dentist will help ensure that any mucositis or periimplantitis is detected well in time and treated .Treatment of mucositis and peri-implantitis involves professional cleaning of the implant surface to remove bacterial deposits.
In addition, you may be asked to use an antibacterial mouthwash or gel or, in some cases, prescribed an antibiotic to eliminate the infection.
If the peri-implantitis is more advanced, your dentist might consider a surgical procedure to gain better access for cleaning.
However, if the condition cannot be controlled, the implant may have to removed.
Watch Video to know more about

Dental Implant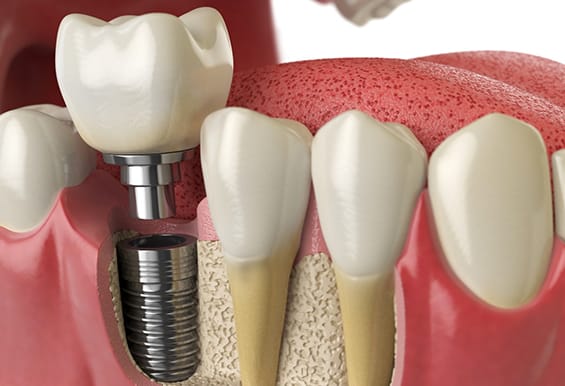 Stages of Visits for Successful Dental Implant
Please note that for single implant, 6 visits are all that is necessary.
Visit – 1
Consultation
Planning
X-rays
Impression of teeth
Request for a 3D – Scan (results are e-mailed to me)
Blood tests
Visit – 2
Implant Surgery
Any bone grafting is done cases of bone loss.
Any additional surgery if needed, is done during this visit.
Visit – 3
At 2 week after first visit
Check the surgical site
Removal of sutures (1 week after Visit – 2)
Visit – 4
At 3 – 4 months
Screws are placed on the implant for 2 weeks so the gums can be prepared to receive a prosthesis
Visit – 5
Impression is taken in preparation for the Crown/prosthesis
Visit – 6
3 days after Visit – 5
Crowns are given in cases of single tooth implant, but for other cases a bite record is made.
Visit – 7
3 days after Visit – 6
Trial fitting of the Crown over the implant is done.
Visit – 8
3 days after Visit – 7
Final full mouth fitting is given.
Final checking of implant is done.
Reasons Why Patients Love Us
We have over 20 years of expertise in Dentistry. Citylife Dental has survived the test of time.
We believe in perfection, reproducibility of results, precision and professionalism.
What our patients have said....