What are dentures?
Dentures are removable prosthetic appliances that replace missing teeth. They help in restoring your smile and help in chewing your food. A set of dentures consist of an upper denture and a lower denture.
Types of

dentures:
Conventional dentures:
This pair of upper and lower removable denture is made and placed in your mouth after all of your teeth have been removed and tissues have healed. This can normally be fabricated 6 to 8 weeks after all the teeth have been extracted. The conventional dentures should be replaced every 5 years to fit over the remodeled bone of the jaws. The conventional dentures normally require about 5 visits a couple of days apart. Impressions are made in the first two visits, followed by a bite record. The next visit generally requires a wax up trial of the final denture. The final denture is usually given in the fifth visit if none of the earlier steps need to be repeated.
Immediate dentures:
This removable denture is inserted on the same day that the remaining teeth are removed. Your dentist will take measurements and make models of your jaw before starting with your extractions. Since these dentures are in the mouth right after the last tooth has been extracted, some bone remodeling will take place over the next 4 to 6 weeks and the immediate dentures can become loose from time to time. These can be relined in order to have them fit as the remodeling of the bone takes place. These dentures have to be finally replaced with a new set of conventional dentures.
Implant supported dentures:
Dental implants are used to securely support the denture. The denture provides a great amount of support for a solid foundation, which allows the denture to stay securely in place.
Overdentures:
Sometimes some of your teeth can be saved to preserve your jawbone and provide stability and support for the denture. An overdenture fits over a small number of remaining natural teeth after they have been root canalled and prepared by your dentist. The dentures fit over these teeth and provide better retention as compared to the conventional dentures.
Partial dentures:
Partial dentures are made when only a few teeth need to be replaced. Initially, an impression of the jaw is made where the denture is required to be made. The dentures are given in the next visit, normally after a couple of days. An additional visit may be required for the adjustment of the dentures in case there are any sore areas.
Helpful advice to know:
You may take time to adjust to your new dentures.
The muscles of your mouth will train to keep the dentures in the mouth.
You may also have some initial difficulty in speech which you may get used to over a period of time.
You may experience minor irritation or soreness.
You may find that saliva flow temporarily increases. As your mouth becomes accustomed to the dentures, these problems should go away.
Follow-up appointments with the dentist are generally needed after a denture is inserted so the fit can be checked and adjusted.
Examples of Types of Dentures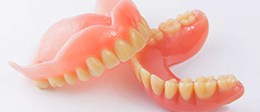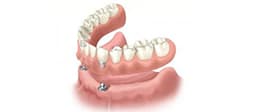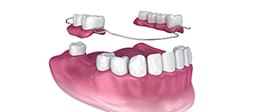 Watch Video to know more about

Dentures and Tooth Loss
Instructions following insertion of the dentures:
Even if you wear full dentures, you still have to practice good dental hygiene. Brush your gums, tongue and roof of your mouth every morning with a soft-bristled brush before you insert your dentures to stimulate circulation in your tissues and help remove plaque. This can help reduce the risk of oral irritation and bad breath.
Like your teeth, your dentures should be brushed daily to remove food particles and plaque. Brushing also can prevent staining on the teeth. There is a special brush for keeping the dentures clean.
When you're not wearing your dentures, put them in a safe place covered in water to keep them from warping. You can use tablets that can be put in the water and dentures can be placed in them overnight to keep them clean.
Occasionally, denture wearers may use adhesives. Adhesives come in many forms: creams, powders, pads/wafers, strips or liquids. If you use one of these products, read the instructions, and use them exactly as directed.
What our patients have said....