Where should dental crowns be used?
Dental crowns can be used for various reasons like
Restoring badly decayed teeth, large fillings and root canal treated teeth.
To shape your teeth or change the size and colour of your teeth
To improve the bite and strengthen the worn down teeth.
To replace a missing tooth or as a part of a dental crown.
Benefits of Crown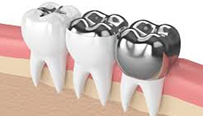 Dental crowns are applied over the remains of your natural tooth/teeth. It helps to not only hide unappealing teeth and improve your smile. More importantly it helps to protect the damaged tooth from further damage and harm. Crowns can be colour-matched to your existing teeth and gives a natural look matching with your other teeth.
Dental crown will help to reduce the sensitivity and making chewing and eating more comfortable and pumps up your self confidence and facial appearance.
Procedure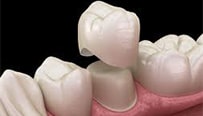 The procedure will consist of shaping the tooth in order to create a space all around the tooth so that crown or the "cap" can fit over the tooth. The shape and the size of the tooth is recorded by making an impression of the teeth which is sent to the laboratory. The crown is fixed with a cement onto the prepared tooth.
Types of crown
The material used for the crown could be metal, ceramic or combination of these. All ceramic crowns generally have higher esthetic value and are more biocompatible than metal or metal ceramic crowns.
Watch Video to know more about

Dental Crowns
What our patients have said....